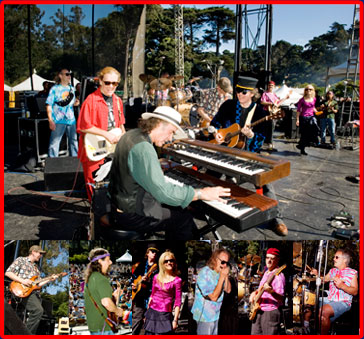 About the Band
Were there a conjurer's secret for the heady brew known as the Flying Other Brothers, it might read something like this.
Mix equal parts singer-songwriter gone electric, dauntless improvisation, and a love for walking the edge with a whimsical smile. Steep in the grand tradition of vintage San Francisco sounds and sensibility. Pepper liberally with original tunes, classic covers, boundless energy, and a healthy dose of humor. Season with serious fun and bake until done.
The freewheeling creative conspiracy that is the Flying Other Brothers has emerged as a modern-day musical Merry Pranksters of sorts, coupling airtight arrangements with the high-wire adventures of collective spontaneity and exploration.
Ever eclectic, the individual musical relationships of the band members range from the Grateful Dead and Little Feat to Tom Waits and Bonnie Raitt. As a group, they've performed live with Bob Weir, Mickey Hart, Jorma Kaukonen, Jack Casady, Country Joe McDonald, Leftover Salmon, G.E. Smith, and Warren Haynes, among many others.
Featuring stellar lead and pedal steel guitarist Barry Sless (Phil Lesh & Friends), keyboardist Pete Sears (Hot Tuna, Jefferson Starship), former Saturday Night Live bandleader and guitarist G.E. Smith (Bob Dylan, Hall & Oates), and drummer Jimmy Sanchez (Boz Scaggs, Dr. John), the octet is rounded out by Roger McNamee on rhythm guitar, Ann McNamee on percussion, Bill Bennett on bass, Tony Bove on harmonica, and Bert Keely on guitar, all five of whom lend vocals and original tunes to the mix.
With a broad musical palette and a steadfast devotion to spreading good cheer, this band of kindred spirits finds itself in its 10th year of what continues to be a great trip for band and fans alike. The good times find a healthy balance in the group's songwriting, which reflects both a weighted interest in and insight into topics personal, social, and political. Along the way, the band has devoted an ample measure of musical goodwill to performing and organizing benefit concerts for a wide variety of worthy causes.
Moving into their second decade, the Flying Other Brothers continue to gain momentum, garnering positive response to their performances by audiences and critics alike.


guitar and vocals
Roger McNamee grew up listening to the Dead, Band, Dylan, Pink Floyd and the Beatles. His first band, Guff, was heavily influenced by Zappa and the Mothers. After spending the 80s and early 90s playing folk music in clubs and restaurants, Roger hooked up with Bill Bennett, T Bone Bove and Bert Keely to form the predecessor band to the FOBs. Roger has studied guitar with Jorma Kaukonen and still studies with G.E. He studies bass with G.E. and Pete Sears.

keyboards and vocals
Ann McNamee is suffused with music, from her theory-steeped head to the song in her heart, from her shaking booty to her tapping toes.  Her portfolio of nearly 100 songs offers a fresh perspective on relationships and the ever-new world: a willingness to be touched, a wry acknowledgement of the pains of living.  Her doctorate in music theory demonstrates that she knows the rules she's breaking, often in favor of the influence of such diverse pop masters as Carole King, Lennon and McCartney, Bob Dylan, Elton John and the Velvet Underground.
As a professor of music, she has taught everything from twelve-tone and atonal music to Gregorian chant, from music of women composers to the history of rock and roll. Her solo debut, 2000's "Space in Your Arms," is available on CD at Amazon.com.  She has been a member of the Flying Other Brothers Band since 1999.

guitar and vocals
Bert Keely loves to play, but is better known for his work.
A Silicon Valley guy with a personal vision to 'Make electronic information as handy as paper', he is doing just that by defining the next generation of the PC (as Microsoft's Architect of Mobile PCs and Tablet Technology).
Go to www.live.com and search for Bert Keely to find out the latest.
"For me, music is a way of life, not a way to make a living" says Bert. An avid musician through his school years, Bert recorded his first album Take Me Home in 1979. But raising a family with his goddess-wife Cynthia pushed music onto the back burner - that is until his friend Bill Bennett started scheming. First Bill brought him out of hiding for a couple of gigs as a jazz duo (Bill on bass, Bert on guitar), then in1996 he brought Bert to a Christmas get-together of the nascent FOBs. The rest is history (well, at least it's recorded).
If you liked 'Ocean', 'Arastradero Road', 'Livin' in Cyn', 'While My Guitar Gently Weeps', 'Forever Young', or 'Goodnight Elizabeth', those are Bert's vocals. (If you didn't, they're not…). His guitar is the bluesy one that focuses on rhythm & dynamics. His trumpet adds schmaltz on rare occasions, if you want it for your occasion try sending him an email. bzbert@msn.com

harmonica and vocals
Tony Bove (a.k.a. TBone) has been playing harmonica ever since giving up the trumpet in grade school (to everyone's relief). Growing up in Philadelphia, he once joined a string band spontaneously in the annual New Years Mummers Parade and has never been the same since. He played in obscure bands with names like Joint Effort, the Mystic Valley Ramblers, and the Great Next Whatever. After a stint as a concert promoter, a computer-industry writer, and a founding member of Bert and Bart, he headed West to seek, acquire, and then lose his fortune.
On the way from rags to semi-riches and back to rags, he wrote more than a dozen computer books, and made a living as a journalist and columnist for computer magazines. He also co-founded the acoustic trio The Graceful Duck (Phil wears a Duck t-shirt on the inside of the Grateful Dead's Fallout from the Phil Zone). Tony eventually moved north into redwood country, earned the title of Ambassador to Silicon Valley from the Mendocino Home Grower's Association, and produced the rockumentary CD-ROM Haight-Ashbury in the Sixties featuring the music of San Francisco (Grateful Dead, Jefferson Airplane, Big Brother, etc.) along with film clips, photos, art, and the pages of the San Francisco Oracle.
Tony now lives in San Francisco and runs the Rockument.com rock music history channel, with includes free music podcasts (including the Flying Other Brothers videos and podcast). He still knows a bit about technology, or at least enough to earn a living, and has just finished the fourth edition of iPod and iTunes for Dummies (Wiley) and the first edition of Just Say No to Microsoft (No Starch Press). Look for them in stores everywhere.
Visit Tony's sites:
iTimes with Tony Bove blog about iTunes and iPod technology, including Tony's Accessories online shop with recommended and reviewed items for sale.
Get Off Microsoft resources and blog
Rockument music podcast and music history shop with special items for sale from Amazon, iTunes, Wolfgang's Vault, and many others, and rockumentaries on the roots of rock music.
Rockument's history of the Haight-Ashbury and Haight St. shop with music, videos, posters, t-shirts, and a variety of special items direct from the Haight-Ashbury.
Flying Other Brothers podcast and videos with free music and commentary.

guitar and pedal steel
A founding member of the David Nelson Band in 1994, Barry Sless has toured the past few years as a member of Phil Lesh and Friends, during which time he's played with Joan Osborne, Trey Anastasio and Mike Gordon from Phish, John Scofield and Jimmy Herring. He also played for years as a member of Kingfish (1987-1999), Rounder recording artists Cowboy Jazz (1979-1991) and various combinations of The Rowan Brothers (Peter, Lorin & Chris) from 2000 to the present.
As one reviewer has pointed out "Lead guitar/pedal steel player Barry Sless consistently has mesmerized audiences with his shimmering melodic lines and exploratory solos." The FOBs and FOB audiences agree.

keyboards and bass guitar
Pete Sears began his musical career in 1964, touring Britain and playing T.V. shows with the E.M.I. band, Sons of Fred, recording at Abbey Road Studios in London. Since then he has played and recorded with many people, including the legendary '60's British underground bands, Fleur De Lys, Sam Gopal Dream and the blues band Steamhammer. Pete played and piano and bass on Rod Stewart's classic early British solo albums, "Gasoline Alley", Every Picture Tells a Story", "Never a Dull Moment" and "Smiler". He played bass with the Long John Baldry Blues Band, and keyboards and bass with Jefferson Starship from 1974 - 1987 including their album, "Red Octopus" which reached number one in the Billboard charts. Sears played keyboards with Jorma Kaukonen and Jack Casady in Hot Tuna from 1992 - 2001.
He has recorded or performed with many other notable artists including Jerry Garcia, John Cipollina, David Nelson, Phil Lesh, Warren Haynes, Leigh Stephens, Nick Gravenites, Peter Rowen, Roy Harper, Zydeco Flames, Ron Wood, Leftover Salmon, Bob Weir & Mickey Hart.
He has also worked live and in the studio and performed with John Lee Hooker and has shared the stage with the likes of Jimi Hendrix, The Allman Brothers, Los Lobos, David Crosby, Sam Bush, Paul Butterfield, Michael Bloomfield, Levon Helm, Grateful Dead and Carlos Santana to name just a few.
Sears solo C.D's include "Watchfire," with guests Jerry Garcia, David Grisman, Mickey Hart, Baba Olatunji, Mimi Farina, Holly Nea,r and "The Long Haul," which includes friends Charlie Musselwhite, Levon Helm, Jorma Kaukonen, Jack Casady, Steve Kimock, Francis Clay, Maria Muldaur, Shanna Morrison, Davey Pattison, Wavy Gravy, Rich Kirch and John Lee Hooker who co-wrote and performed a song with Pete. The track, "Elizabeth" was the last "live in the studio" with a band and no overdubs that John Lee Hooker was to record.
Pete has been a member of The Flying Other Brothers for the past four years, and is now a full time member of Moonalice. He also flies around the country to play one off gigs with artists like David Nelson & Friends, Steve Kimock, and Zero.

drums
Prior to the past 3 and 1/2 years with the Flying Other Brothers, Jim Sanchez toured, recorded and/or performed with Boz Scaggs, Bonnie Raitt, Dr. John, Norton Buffalo, Bob Weir, Roy Rogers and the Delta Rhythm Kings, Commander Cody & the Lost Planet Airmen, Mickey Hart, David Nelson, J.J.Cale, Steve Miller, Tom Waits, Ramblin' Jack Elliott, Arlo Guthrie, Maria Muldaur, Betty Harris, Irma Thomas, Kermit Ruffins, Queen Ida, T-Bone Walker, Charles Brown, Jim Chappell and many others.
His extensive performing experience includes worldwide travels to prestigious jazz and blues festivals and concerts in Europe, Japan, the Middle East, Indonesia, Micronesia, the Philippines, Australia, & North and South America.

bass and vocals
Bill Bennett plays bass guitar and double bass, and paradoxically thrives on tight arrangements and no-holds-barred improvisation.  He is a Grammy-nominated producer and oft-published jazz historian, and spent five years as Executive Producer of the Smithsonian Collection of Recordings.
His contributions to the Flying Other Brothers repertoire include "White Shoe Shuffle," "Lowell's Room,"  "Clueless,"  and "Wise Man in the Desert."  He is active in the Recording Academy, where he is a member of the Board of Governors of the San Francisco chapter, and serves on national committees on honorary awards and Internet applications.

guitar
One of the most in-demand blues/rock guitarists in the world is a mysterious character who goes by the name of G.E. Smith. Millions of TV viewers know his face -- and the shock of unruly blond ponytail that was always falling across it -- from his 10 years (1985-1995) of fronting the
Saturday Night Live
band.
In late 1977, at age 25,  G.E. got his first break, in the form of Dan Hartman, fresh off his hit "Instant Replay". He hired the guitarist to front his band for a "lip-synch tour" of Europe and the US. Upon his return to the East coast Smith moved to Manhattan and became the guitarist for Gilda Radner's 1979 Broadway show "Gilda Live". Radner and Smith became friends; shortly afterward they got married.
During that period of Smith's life another big break took place when the blue-eyed soulsters Daryl Hall and John Oates came calling.  Smith played lead guitar for Hall & Oates from 1979 to 1985, racking up hit after hit with songs like "Private Eyes", "Man Eater", "Kiss On My List" and others.  At the Live Aid and Farm Aid benefit concerts in early '85, the Hall & Oates band ended up being the house band, and Smith ended up being the de facto music director for Mick Jagger, Tina Turner and others.
G.E.'s hard work earned him a commanding position in the music industry as a first call blues/rock guitarist, sought out by major recording artists like Jagger, who, shortly after Live Aid, called Smith to work with him on his first solo album, She's the Boss. And when Hall & Oates decided to take a long break from the music scene, Smith was chosen to be musical director for Saturday Night Live. After 10 years fronting perhaps the best band on late-night television, G.E. left with an Emmy Award and a world of contacts and experience.
In the midst of his SNL tenure Smith toured for almost four years with the legendary Bob Dylan.  During his SNL years Smith was also honored to be the musical director for special events such as the 1988 Emmy Awards, the 1993 Rhythm and Blues Foundation Awards and the Bob Dylan 30th Anniversary Concert at Madison Square Garden.  Smith acted as musical director at the Rock N' Roll Hall of Fame Museum Concert in Cleveland. For more on G.E., visit his website –– http://www.gesmith.com